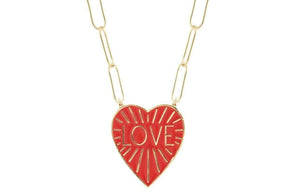 The heart…❤️ It's what the Tin Man wanted, but had all along. It's arguably our most important organ, well that and the brain. And it's what drives us every day. 
This love pendant is made for a lifetime of love from 18K gold vermeil and red enamel.  
Love heart pendant measures 1 x 1.2 inches. Chain is gold-filled (not plated), antique style, large link chain, adjustable up to 19 inches.